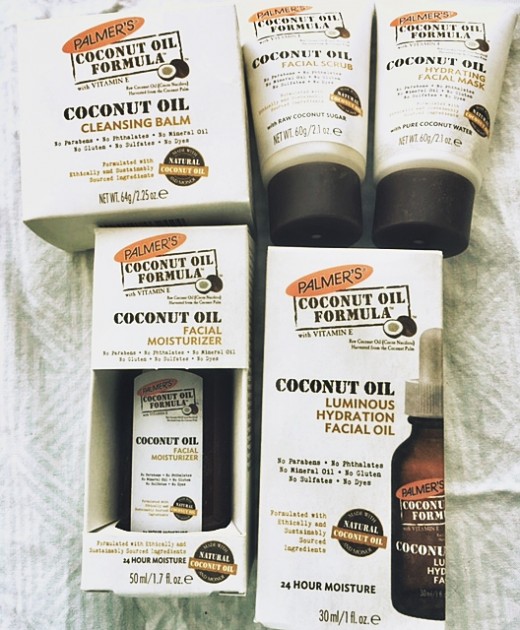 Though coconut oil has been used for skincare in warm weather island locales for probably millennia, its popularity is spreading throughout the globe. Beauty product mavens can find the ingredient at all price points, but why not enjoy the benefits affordably and conveniently? Palmer's has a long, grand heritage in the market: it's part of a family-run company that dates back to the mid-20th century! I was happy to be able to experience it.
This line incorporates ethically sourced coconut oil, Tahitian monoi oil (a hydrating variety of gardenia) and tiare' flower petals (another flower native to the South Pacific islands).
Cleansing balms are the hottest thing now in skincare! There are many reasons why. Even oily skins can get raw and irritated, from harsh acne care or other drying treatments. Or, sometimes we just don't know when to stop: many of us really can't take those multi-step routines on a daily basis. Blisters, rashes, hives, redness and flakiness are proof of that. Palmer's Coconut Oil Cleansing Balm is even more soothing than a cream! You take a little bit in your palm, rub your hands together to warm/emulsify the product, then apply to your face. You'll feel makeup and grime just slide off. They say that you can either rub it in or rinse off, but I say that if you're taking off makeup, go ahead and rinse that paint down the drain. The product has the delicate, nutty fragrance of natural coconut.
It's well-known that facial scrubs can be helpful in exfoliating dry, dead cells and keeping pores clear. But, once again, one must be very careful not to tear the fragile dermis. Coconut Oil Facial Scrub uses gentle raw coconut sugar — not nut shells or salt — along with healing ingredients like Vitamin E, pure coconut oil, milk and Vitamin E, help keep the product from being overly abrasive. The scrub particles are very fine, suspended in a rich cream consistency.
If you think that face masks only come in green clay or sheets, there's another option out there. Coconut Oil Hydrating Facial Mask doesn't dry; coconut water helps keep everything moist. And, like the Cleansing Balm, you can rinse it off or massage it in
Coconut Oil Luminous Hydration Oil contains 10 natural oils to provide a smoother skin texture and glow: extra virgin coconut, Tahitian monoi, sweet almond, macadamia, argan, grapeseed, passionfruit, sunflower, apricot and sesame. These are all vitamin and nutrient-packed ingredients. This product is one of the few that's been developed to (also) help the decollete. That's an area that sees more sun (you don't wear makeup there, which offers some degree of protection). So, that's an area that suffers more damage and shows your age faster. Even with all of those oils, the product has a light, dry to the touch consistency. You will not feel greasy or itchy. It certainly won't interfere with cosmetics application.
Coconut Oil Facial Moisturizer has a light, sheer, lotion consistency. This is about hydration, not slickness. This is a product that would be at home even on oilier skin. If you're extra dry, top it with a touch of the Hydration Oil to lock moisture in.
The whole line is well-packaged and sized for airport travel. None of the products have mineral oil, gluten, parabens or dyes.