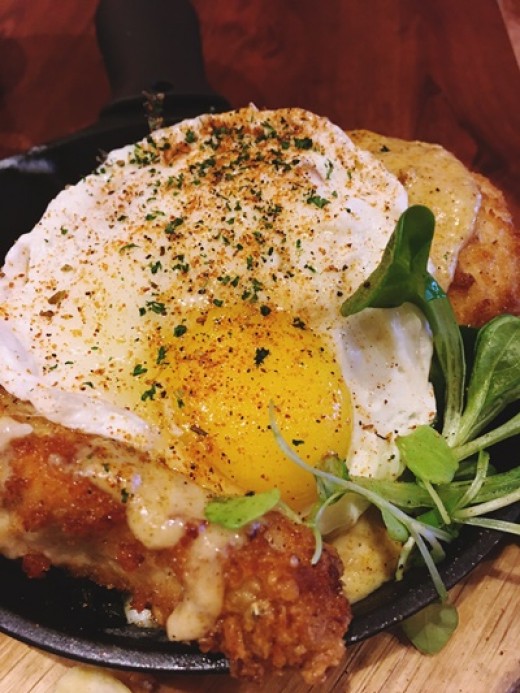 Miss Shirley's — with locations in Baltimore and Annapolis — is only open until mid-afternoon; they focus on being one of the nation's favorite breakfast/brunch/lunch destinations. Though they do keep some classic favorites on the menu, Miss Shirley's is always looking to keep things fresh. The restaurant has undergone a fascinating evolution throughout the years: though founded as an homage to Low Country/Southern cuisine — and the menu still leans strongly in that direction — multi award-winning Chef Brigitte Bledsoe also embraces the flavors and ingredients of the Chesapeake Bay and also, those hyper-local ingredients from right around Baltimore. Also, dishes seem to have smoothed into more elegant, refined composition and presentations, from the sometimes riotous dishes of the past. Each special ingredient stands out!
Miss Shirley's has always been known for its breakfast cocktails, including several variations of Bloody Marys, locally brewed artisanal beers, fruit drinks. For spring, Southern Ruby Sangria is a clean, refreshing start to a morning meal. With three Olives Pink Grapefruit vodka, Champagne, white wine, Triple Sec, a splash of club soda, squeezed fresh grapefruit juice with pulp, grapefruit segments, strawberry slices and mint. A cool, clean tasting beverage, it won't knock you down for the rest of the day.
The restaurant has been incorporating several locally made sauces in recipes and on the table. That gives Miss Shirley's flavors a sense of place — an important concept in dining these days. I tried the hot sauce set out — made-in-Baltimore Huckles Late Harvest Jalapeno. It packs heat, but it's not burning. The staff tried a bunch of their varieties to pick the most food complimentary taste. There's a depth of pepper flavor, with a vegetal note . . . not just capsaicin.
Wanna keep delicious decadence to a forgivable portion? House-Made Shrimp Gritters are filled with blackened (but still tender) shrimp, pimento cheese and stone ground grits with diced bacon, encrusted with seasoned panko breading then fried, and garnished with local Huckle's Late Harvest Jalapeño Aioli, dusted with Cajun spice. There are lots of texture contracts, between the big hunks of shrimp, crunchy fritter exterior and the good richness of the aioli. The Huckle's gives everything a real kick!
Are you scanning the menu up and down, unable to leave off ordering something — like the chiffarobe left at the banks of the Ohio after a Conestoga wagon journey? Gravy Train Southern Skillet packs a bunch of your guilty pleasure faves in one personal-sized cast iron skillet: fried buttermilk boneless breast of chicken pieces on Benne seed (a heritage sesame seed from South Carolina), Cheddar, peppadew and green onion biscuit, with collard greens cooked with Tasso ham, stone ground grits with diced bacon, Chesapeake chicken sausage gravy and Cheddar cheese, topped with sunny side up egg, dusted with Cajun spice.
Despite all of the flavors, they work together beautifully and look well. The presentation is appealing! The chicken breast was big, juicy and perfectly seasoned. The collard greens are placed on the bottom: savory, nicely (not overly!) cooked, still retaining their texture. The other elements, such as the grits, weren't overly salted, so their flavors still shone. This is definitely a good item to order for later brunches that you want to turn into "Sunday dinner", Southern-style!